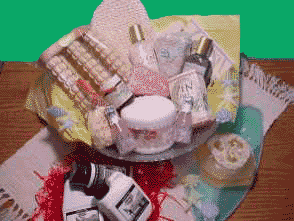 Select from one of our suggestions below, or let us custom design a gift arrangement for you. Our inventory changes continuously, and no two orders will be exactly the same. We prefer to be creative, and we hope you will appreciate our "personal touch"!
Note: All prices are in Canadian dollars. Shipping and applicable taxes are extra.
| | |
| --- | --- |
| Breakfast in Bed | From $79.95 |
Make someone's morning extra special and relaxing with breakfast served on a uniquely designed tray. Cherries in Brandy, Blueberries in Peach Schnapps, Black Currant in Rum, Cranberry, Apricot or Raspberry Cream Honey...would any of these flavors pique the interest of your loved one. Arrives complete with tall coffee mugs and coffee in a multitude of flavors, linen, English scone or pancake mix and a very special long stemmed china flower.
| | |
| --- | --- |
| Fragrances that Delight the Senses | From $39.95 |
Let us design a gift in a variety of different fragrances, including:
Satsuma Blossoms - designed to inspire tranquility and serenity with the essential oils of neroli and sandalwood
Jasmine & Amber - calming, balancing and almost euphoric with the essential oils of jasmine and amber
Tea & Oranges - revitalizing, uplifting and soothing with essential oils of mandarin orange and bergamot
Sunblossom - an exhilarating blend of rich botanicals and sun ripened citrus
Lavender - bring harmony to mind and body with pure lavender essential oil, natural botanicals and vitamins
Honey & Oatmeal - specially formulated to nourish and protect even the most sensitive skin while it gently exfoliates and cleanses
Give us a call at (613) 863-1609 and we will design something especially impressive from our fragrance bath collections!
| | |
| --- | --- |
| De-Stress and Re-Energize! | From $44.95 |
Relax the body, mind and spirit with 100% pure essential oils of lavender, petitgrain and neroli. Includes hand and body lotion, a headache balm and a mineral salts envelope. We can also add a calming music CD, votive candle and holder or perhaps a terry bath pillow or frosted relaxing eye mask.
| | |
| --- | --- |
| Pamper Her Aromatherapy Spa | From $49.95 |
Ahhh, that feels great! Treat her to the ultimate indulgence, her own home spa treatment. Spoil her with relaxing fragrances and bath amenities guaranteed to pamper, soothe and balance body, mind and spirit. A variety of bath delights and scented gifts. A perfect way to let her know you're thinking of her.
| | |
| --- | --- |
| A Day at the Spa for your Feet | From $21.95 |
Treat someone's tired feet to the invigorating, cooling essence of Peppermint in the comfort of their own home. They will feel very pampered and refreshed after using an exfoliating scrub, a unique pumice stone and foot powder. Complete with a soothing bubble bath, some bath fizzers or some foaming bath crystals.
| | |
| --- | --- |
| The Essence of French Vanilla! | From $21.95 |
For the woman who loves the warm and comforting blend of vanilla, jasmine and bergamot, this gift includes moisturizer, cleanser and total body moisture soap all in a large satin makeup bag. Just to guarantee a few relaxing moments, we can also include an elegant votive candle and holder and/or a package of 100% pure botanical vanilla potpourri.