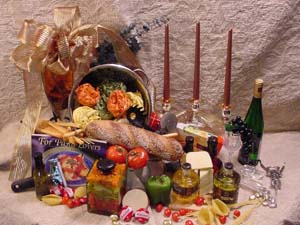 Select from one of our suggestions below, or let us custom design a gift basket for you. Our inventory changes continuously, and no two orders will be exactly the same. We prefer to be creative, and we hope you will appreciate our "personal touch"!
Note: All prices are in Canadian dollars. Shipping and applicable taxes are extra.
Also check out our special ways to say Thank you! If you don't see exactly what you're looking for, give us a call at (613) 863-1609 or send us an e-mail - please include your telephone number. We're pleased to work with you to customize a gift basket to meet your taste and budget.
| | |
| --- | --- |
| Especially from Canada! | From $34.95 |
Celebrate Canada Day by bringing your host or hostess one of our special "red and white" arrangements customized for the occasion - let's chat and come up with exactly what you need - we'll always include a Canada flag!
| | |
| --- | --- |
| An Evening of Good Taste | From $49.95 |
Surprise a friend or loved one by suggesting you spend a relaxing fun filled evening opening up the contents of one of our original gift baskets and sampling to your hearts' delight. Include a movie or music DVD, at an additional cost. We will customize the basket to suit your particular food tastes - enjoy some old favorites or try something new!
| | |
| --- | --- |
| Cookies, Cookies....and other Stuff! | From $34.95 |
Mix up an assortment of gourmet cookies and add some coffee, tea, hot chocolate, maybe some chocolate or nuts.........and what do you get? Mmmmmmmm, mmmmmmm, good!
| | |
| --- | --- |
| After Dinner Delights! | From $44.95 |

Surprise your dinner companions with an elegant basket for dessert. Let them choose to satisfy their sweet tooth with some Chocolate Explosion, a decadent truffle, a chocolate shortbread spoon, or perhaps a cappuccino, flavored coffee or apple cranberry cider or select from an assortment of delicious cookies. We can also include an after dinner liqueur if desired. What better way to "bring dessert" and have some fun too!
| | |
| --- | --- |
| Italy by Candlelight | From $99.95 |
Does someone you know love Italian food........and who doesn't! Along with some of the best Italian pasta and seasoning combinations, gourmet oils and vinegars, biscotti, Caesar dressing and much more, we also include a hardcover "Complete Pasta & Italian Cookbook", the table linens and an elegant candle to add to your fine dining experience. Delicioso!
| | |
| --- | --- |
| So Pretty and so Delicious - a Mug to Remember! | From $19.95 |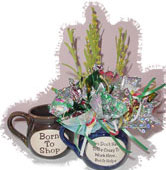 Dress up one of our mugs for extra special gift giving with a striking assortment of seasonal silk or dried flowers, candy, tea, hot chocolate, coffee or cookies. Choose from our wide variety of mugs, including some with slogans such as "Born to Shop", "You don't have to be crazy to work here...but it helps", "Coffee Drinkers make Better Lovers", "The Best Man for this Job is a Woman" and many others.
| | |
| --- | --- |
| Kiss the Cook | From $59.95 |
That's what they'll do after sampling these tasty delights. Crackers and cheese or an assortment of other appetizers whet the appetite for pasta drizzled with flavor infused oil. Toss a salad on the side and then they'll be ready for dessert; a special sweet treat to be enjoyed with coffee or tea. Presented in a colander with linen napkins, linen table cloth and a candle. Baci per tutti. Kisses for everyone.
| | |
| --- | --- |
| Fine Italian Dining | From $49.95 |
Our gourmet Italian package will thrill any chef with our collection of pasta and special seasonings to biscotti and gourmet coffees. Roasted garlic pesto seasoning, tomato garlic bruschetta topping, pepper and herbal oils, marinara sauce, sundried tomatoes......sound appealing??
They'll say "muchas gracias" when they receive this tex-mex inspired gift basket. It's a fiery collection of crackers and jalapeno spread, Cactus & Coyote tortilla chips, zesty salsa and much more!
| | |
| --- | --- |
| Let's Have Pizza tonight! | From $49.95 |
Set includes 13 inch round pizza stone, serving rack and pizza cutter allowing you to prepare traditional pizzeria style pizza in the comfort of your own kitchen. We also add some spicy herb pizza topping and oils, some extra special Ceasar salad dressing everyone will think you spent hours perfecting in the kitchen and some chocolate treats and coffee to finish off a satisfying meal.
Even when you can't make it home for that special occasion, you can still "make them brunch" with our assortment of yummy treats including a variety of pancake, waffle and scone mixes, maple and wild blueberry syrup, specialty jams, gourmet coffees and teas presented on a breakfast tray complete with mugs and napkins. They'll think of you while enjoying every bite!
| | |
| --- | --- |
| Picnic in the Park....or by a Roaring Fire! | From $34.95 |
Equally enjoyable for a romantic rendez vous or a family outing. This arrangement includes all the musts for a picnic for two (or more) including special beverages, cheese, crackers, dips, pates, chocolates and biscotti for dessert. If desired, we can add crystal wine glasses and your favorite wine, napkins perfect for the occasion and even a picnic blanket.
| | |
| --- | --- |
| Chocolate Fondue Night | From $39.95 |
This engaging chocolate fondue set is accentuated with base and forks in neoclassic design and includes one ceramic bowl and wrought iron base, four wrought iron forks, a candle, Belgian chocolate fondue for dipping in either classic or grand marnier flavors and an assortment of coffees to enjoy with the chocolate decadence.
| | |
| --- | --- |
| At Your Leisure | From $29.95 |
This arrangement includes everything imaginable to enjoy a leisurely cup of tea. Our selection of herbal and flavored teas served in some oversized mugs with honey, crisp cookies or a delicious scone mix ready for the oven is presented on a lovely one-of-a-kind tray complete with quality linens.