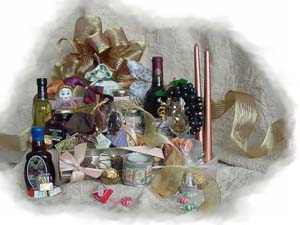 Gifted Impressions - Combining the hard to find with the one-of-a-kind!
Connect with us as the holiday season approaches to make this an extra special
Christmas
for your
family, friends and business associates, clients and staff. Winner of a
Business Achievement Award from the
Nepean Chamber of Commerce.
Contact Gifted Impressions when you want to give a gift that will make
an extra special impression
on your friends, family and business associates......the perfect solution for any occasion or event!
Our specialty is "custom designed gift baskets" - no two gift baskets are the same!
Our stock is constantly changing with new inventory arriving weekly to reflect the newest ideas from our suppliers, and the baskets on the website are ideas only.
We also specialize in
business or company
gift giving requirements - our innovative ideas for your clients, customers, suppliers, employees and friends are appreciated any time of the year.
Provide us with some items with your corporate logo and your business cards or brochures, and we will be pleased to incorporate them in the gift basket. We will also ensure your corporate colours are reflected in our ribbons and bows if requested.
Call or email us now so we can start to be creative for you!
Also check out our distinctly different ideas for your friends and family who are celebrating
birthdays
or
anniversaries.
Congratulate them as they
move into a new house,
or
welcome a new baby
into their home. Any day is a good day to destress and pamper a
special woman
or surprise a
special gentleman
with some "manly" treats.
Gifted Impressions promises to take the stress out of gift giving.
The possibilities are endless...the impressions lasting!
Select a gift basket from the many ideas in our product catalogue, or let us design something to meet your special needs.
Either way, we will help you build gifted relationships by making impressions that last!
Located in Ottawa (Nepean), Ontario, Canada.
Winner of a 2006 Business Achievement Award from the
Greater Nepean Chamber of Commerce.
Member of the Greater Ottawa Chamber of Commerce,
the Business Breakfast Club (BBC), Billings Bridge,
and Friends in Business, Ottawa, Ontario, Canada.