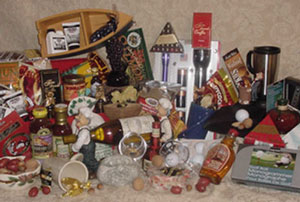 Select from one of our suggestions below, or let us custom design a gift arrangement for you. Our inventory changes continuously, and no two orders will be exactly the same. We prefer to be creative, and we hope you will appreciate our "personal touch"!
Note: All prices are in Canadian dollars. Shipping and applicable taxes are extra.
| | |
| --- | --- |
| A Golfer's Paradise! | From $59.95 |
Start any golfer's day off right with the "golfer's breakfast" - six fresh range balls with the St. Andrews crest. Add to the golfing theme with an elegant "golf glove/score card picture frame" to capture the best shot of the day. Consider having us add some unique blue bottled water, some gourmet treats to keep the golfer's energy high and a touch of humor - a special paper weight that exemplifies the golfer at the 19th hole.
| | |
| --- | --- |
| A Tower of Decadence | From $59.95 |
Pay tribute to two of life's great pleasures - chocolate and coffee. Our "Tower of Decadence" is filled with coffee, including Columbian, Irish Cream, Hazelnut and French Vanilla. If desired, an assortment of teas can be used instead of or along with the coffee. Ghirardelli chocolates, French truffles, chocolate covered nuts to send you over the edge.
| | |
| --- | --- |
| An Evening with Grand Marnier | From $49.95 |
Entertain in a grand manner with a little help from Grand Marnier. We include the crystal glasses, gourmet coffee and some extra special chocolate treats to enjoy along with the Grand Marnier.
| | |
| --- | --- |
| Office in the Car | From $49.95 |
For the man on the move...cell phone caddy, stainless steel travel mug, car visor organizer, a metallic CD holder for that special CD......all requirements for an Office in the Car. Choose one or more and serve them up along with some healthy snacks that give a quick energy boost and can be safely eaten in the car.
| | |
| --- | --- |
| Heavy Duty Guy Stuff | From $59.95 |
For the car lover, we now carry the "Heavy Duty Jump Start Kit", including shower gel, with a clean citrus aroma blend to keep your motor hummin', body scrub which exfoliates surface skin cells and generates smoother skin, autostrip shave cream for a "smoooooooooth ride" and hand cream for "hands that do more than just wave". Super-hydrating, non-greasy with lots of high performance ingredients! As is, or let us add some extras, including a bright red auto tool box with some Canadian winter driving must-have's.
| | |
| --- | --- |
| Armchair Coach's Corner | From $39.95 |
Whether he's coaching Sunday afternoon football or Hockey Night in Canada, this compilation of snacks will be welcomed during any intermission or half-time break. Pretzels, nuts, tortilla chips, Cactus and Coyote salsa, cheese flavored with garlic or accented with walnuts, crackers with poppyseeds or cracked peppercorns, flavored mustards, decadent cookies and coffee and/or hot chocolate round out this selection. He'll be begging for overtime!