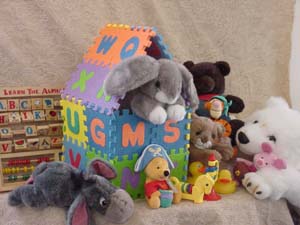 Select from one of our suggestions below, or let us custom design a gift arrangement for you. Our inventory changes continuously, and no two orders will be exactly the same. We prefer to be creative, and we hope you will appreciate our "personal touch"!
Note: All prices are in Canadian dollars. Shipping and applicable taxes are extra.
| | |
| --- | --- |
| A Baby Shower Gift from All of Us | From $99.95 |
How about a "tickle trunk" that will meet a growing baby's needs. We can fill it with sleepers, receiving blankets, rattles, powder and lotion, a multitude of bath time and grooming items and other nursery needs. As baby grows, the wooden trunk becomes a great toy box!
| | |
| --- | --- |
| Let's Get Wet and Wild! | From $79.95 |
Everything new parents will need to make bathtime fgun. An assortment of tub toys, baby care items, rattle and sleeper presented in a large infant bathtub. Practical and guaranteed to result in lots of giggles.
| | |
| --- | --- |
| Ready for a Change | From $74.95 |

Everything you need for the baby on the
go. Shopping, a walk in the park or a visit
to Grandma's. This large diaper bag is
chuck full of lots of adorable baby things.
Bag may contain an assortment of sleepers, wipes, powder, something special to keep
baby amused and several other baby care items.
| | |
| --- | --- |
| For the Budding Architect! | From $49.95 |
A 36 piece alphabet and number interlocking puzzle mat forms the base for this special gift. Provides unlimited opportunity to design different floor or table arrangements or use it as a play mat. Also includes an extra special stuffed animal, some books and several other fun items. Not recommended for children under 3 years.
| | |
| --- | --- |
| Baby's Keepsake Box | From $45.95 |
A quality keepsake box in a variety of styles, sizes and price ranges. We'll fill the keepsake box with an assortment of baby items which can include a sleeper, bib, slippers, scratch mittens, rattles, tub toys, etc. Can also include a frame to hold an extra special baby picture.
| | |
| --- | --- |
| Bath Time for the Toddler! | From $24.95 |
This gift includes a bathroom set in the ever popular "Dalmation" motif. Includes a Dalmation nail brush, soap dish and tooth brush holder. Also includes an assortment of other bath items guaranteed to make getting clean fun for everyone!