Select from one of our suggestions below, or let us custom design a gift arrangement for you. Our inventory changes continuously, and no two orders will be exactly the same. We prefer to be creative, and we hope you will appreciate our "personal touch"!
Note: All prices are in Canadian dollars. Shipping and applicable taxes are extra.
| | |
| --- | --- |
| Surprise the Whole Gang! | From $99.95 |

Get the whole gang together to celebrate the holiday
season and feast on this delectable assortment of
quality foods and sweet treats. Overflowing with smoked
salmon, sparkling non-alcoholic cider or your choice of
alcoholic beverage, cheeses, crackers, 'Chewy Gooeys', any flavour of hot chocolate you can imagine, perhaps a Chocolate Explosion cake, gourmet coffees and herbal teas, seasoned nuts, preserves and cookies…..the list goes on and on. We'll wrap it all up in one of our Christmas tree arrangements or, if you prefer, choose from our wide selection of baskets and other seasonal containers.
| | |
| --- | --- |
| 12 Days of Christmas | From $149.95 |
Surprise your loved one or family by celebrating the 12 days of Christmas......no partridge in a pear tree required! We will custom design twelve gifts for you to present, one each day, to really have some fun with the holidays. Each gift will be beautifully wrapped and we are sure the recipient will be looking forward to their daily surprise. The gifts are limited only by our imagination - you might consider a candle, massage oil, some body lotion, scented soaps, a bottle of wine in a special carrier and a couple of glasses for sharing, some truffles or other chocolate treats.....the possibilities are endless. Call us soon so we have lots of time to personalize this surprise especially for the recipient!
| | |
| --- | --- |
| A Feast for the Season! | From $34.95 |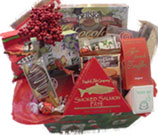 Everyone will enjoy this delectable assortment of quality foods and sweet treats. Overflowing with smoked salmon, sparkling non-alcoholic cider or your choice of alcoholic beverages, an assortment of cheeses, biscotti, crackers, gourmet coffees and herbal teas, seasoned nuts, Lindt truffles, preserves and cookies.....perfect for sharing or just for one! Customized to meet your tastes and budget!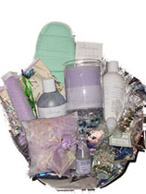 | | |
| --- | --- |
| Luxurious Relaxation | From $74.95 |
Our pampering baskets are designed to harmoniously combine colour and scent, creating truly spectacular arrangements. One of our favorites is the lavender basket which contains a warm mixture of lavender oils, lotions, a candle, potpourri, etc. Eliminate the stress of the day and reach for inner calm as well as a hint of romance and passion.
| | |
| --- | --- |
| Welcome this Special Santa! | From $59.95 |
This marvelously crafted Santa bottle cover is as much a delight to give as to receive and will become a decoration keepsake for many years to come. Just let us know what alcoholic or non-alcoholic bottle you would like packaged inside the Santa. We can also enclose some other surprise treats, including coffees, hot chocolate, nuts, truffles, etc. or even add some fine Christmas linen and an elegant candle.
| | |
| --- | --- |
| A Green and Red Christmas | From $49.95 |

This basket is all decked out in green for the holidays - mint hot chocolate, kiwi cake, green tea, irish cream coffee, Grunland cheese and mint chocolates are just a few of the items that help us carry out a green theme. This basket can also be easily changed to have a red and green theme for those who like the traditional Christmas colours.
| | |
| --- | --- |
| Some Wine with that Cheese? | From $69.95 |
Let us design a wine and cheese combo that contains an assortment of crackers, cheeses, smoked salmon, a variety of chocolate treats or other items chosen from our extensive list of gourmet delights.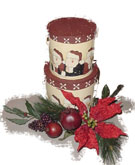 | | |
| --- | --- |
| Double the Pleasure | From $39.95 |
Double the pleasure with this combination of chocolate and nuts. Enjoy an assortment of fudge hot chocolate, biscotti, marble cake, chocolate coffee spoons, chocolate shortbread, chocolate caramel popcorn, there's no end to the chocolate. And then we add the nuts.......cash-oohs, pistachi-ohs, almond crunchies, peanut roasters. Wrap it all up in one of our elegant seasonal containers, and the recipient will be thrilled indeed.
| | |
| --- | --- |
| A Royal Extravaganza | From $34.95 |

Gourmet treats fit for a King (or Queen) all wrapped up in royal gold - some combination of Mrs. Fields Cookies, flavored coffee, caramel popcorn, kiwi or cherry cake, fruit candy, almond hazelnut biscotti, milk chocolate truffles, Ghirardelli chocolate and more.
| | |
| --- | --- |
| Hugs and Kisses | From $29.95 |
Send the gift of a holiday hug with these reusable gift boxes filled with some absolutely amazing chocolate and cookie treats. With this assortment, the recipient's Christmas baking is complete! You may also want to add a variety of hot chocolates, hot apple cider, cheese and crackers, some Canadian snowballs, etc., etc.
| | |
| --- | --- |
| An assortment of Bark and More | From $39.95 |

For the chocolate bark lover, this container has a variety of different flavors - white almond cranberry, strawberry and cream, butter brickle and lemon crunch just to name a few. Wrapped up in one of our seasonal containers or a traditional basket, we will also add a Christmas candle or some additional treats to round out this gift and make it extra special for the recipient.
| | |
| --- | --- |
| Holiday Bears | From $29.95 |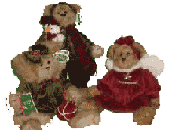 Start or add to your "Bearington Collection" - we have some of the most adorable bears for Christmas, including Missy Mistletoe, Kris and Kringle and many more. A cuddly bear all decked out and fashionably ready for the holidays will warm the heart of any little lady on your shopping list!
| | |
| --- | --- |
| Ho Ho Ho Holiday Pack | From $29.95 |
Green and red plaid table runner, a lightly scented candle or potpourri and some seasonal teas, cookies and other treats - we'll help you decide what the host/hostess would most enjoy (and maybe they'll even be willing to share a few of those cookies!). Ho, Ho, Ho!