Select from one of our suggestions below, or let us custom design a gift arrangement for you. Our inventory changes continuously, and no two orders will be exactly the same. We prefer to be creative, and we hope you will appreciate our "personal touch"!
Note: All prices are in Canadian dollars. Shipping and applicable taxes are extra.
| | |
| --- | --- |
| Spring into Spring | From $49.95 |
Let us custom design a gift especially selected to shake off the winter doldrums - think gardening, tennis, golf, backyard barbecues, "springy" refreshments"……the list goes on and on. We'll work with you to personalize a gift that will show how much you care.
| | |
| --- | --- |
| Anything but a Bunny for my Honey | From $49.95 |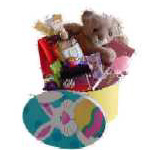 Just kidding - of course we have a wide selection of bunnies for Easter, but you can also show your affection with a Bearington Lion, Tiger, Monkey or Elephant, an adorable pink Pig, etc - all are perfect for snuggling for years to come. Let us create an Easter basket with some traditional Easter eggs, as well as chocolate pecan caramel hearts, truffles, Mrs. Fields Decadent chocolates or perhaps a nutty assortment of cashews, peanuts, almonds, Ghirardelli chocolate mint morsels, chocolate bark and more.
| | |
| --- | --- |
| Luscious in Lavender Spa Package | From $89.95 |

An assortment of bath lotions and gels, massage oil, linen spray, a uniquely designed candle, soaps, potpourri, etc. are all elegantly displayed on one of the containers from our varied selection. Life just doesn't get any better!! Relax and enjoy the arrival of Spring.
The Easter Bunny has prepared an extra specially relaxing basket for your honey - some pampering will add to her enjoyment of the long Easter weekend. Our selection of bath products will give her a sense of euphoria and well-being. A relaxing, rejuvenating CD, some body lotion and a candle complete the arrangement.
| | |
| --- | --- |
| Eye Popping Bunny Delights | From $39.95 |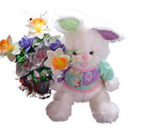 Combine one of our large adorable Easter bunnies with an assortment of Easter delights. Our bunnies are sure to generate lots of hugs, and the arrrangement can be customized to include an assortment of chocolate truffles best enjoyed by adults, a Springy silk flower arrangement or candy, toys and games for young children.
and the little one said…"This is the best Easter ever!!" Start your family's day off right with a hearty pancake breakfast, Canadian maple syrup, fruit preserves, hot chocolate, tea or coffee presented on a tray with a beautiful glass tulip to put a smile on Mom's face.
| | |
| --- | --- |
| Low Carb Delights | From $59.95 |
Your thoughtfulness will definitely be appreciated - this arrangement contains an array of melt-in-your-mouth snacks and drinks for anyone on a low carb diet. All taste amazing and help them get the results they're dreaming of with no feelings of deprivation!! We can also include recipes, some eating out suggestions, books, etc.
| | |
| --- | --- |
| Cookies, Cookies and More Cookies | From $24.95 |

Our sunny Spring baskets are full of some veeeeery interesting cookies for the gourmet cookie lover, including Apple Crumble, Leapin' Lemon, Potato Chip cookies, Sweet Georgia Brownie, Pumpkin Gingerlies and Key Largo Lime just to name a few. We'll round it all out with a lovely bright Spring mug, some coffee or tea and an assortment of other goodies.
| | |
| --- | --- |
| Picnic in the Springtime | From $99.95 |

What better way to enjoy a perfect Spring day than with a picnic! Celebrate with an elegant feast packed in our specially designed basket and overflowing with linens, smoked salmon, crackers, assorted cheeses, chocolates, cookies, nuts and many other surprises. We'll even include a "Chocolate Explosion".
| | |
| --- | --- |
| Basket of Easter Goodies | From $29.95 |
Add some traditional Easter chocolate to one of our adorable Easter baskets. Customized for young children, teenagers or adults! Deeeeelicious, but it's the basket that will be remembered for years to come! A wide assortment of specialty baskets available. A personalized message from the Easter Bunny included on request.
| | |
| --- | --- |
| Green Tea Spa Package | From $99.95 |
Gifted Impressions has teamed with the Acadia Therapeutic Clinic to offer you this spa package. Lotions enriched with organic tea tree oil renowned for its natural healing benefits, candles, hand cream, etc. are included, together with a gift certificate for a 35 minute non-surgical face lift to replenish the natural beauty of your skin. A special gift for a special person!
| | |
| --- | --- |
| Funny Money Banks | From $18.95 |
Fun on their own, or as part of a gift basket Fill them with loonies, golf tees, casino chips, lottery tickets, bingo markers or a cheque.